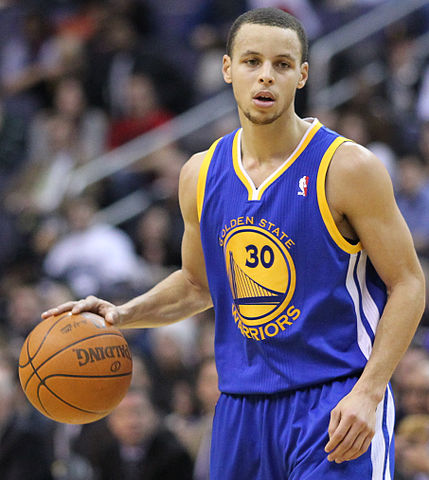 "By Keith Allison from Owings Mills, USA (Stephen Curry) [CC BY-SA 2.0 (http://creativecommons.org/licenses/by-sa/2.0)]," via Wikimedia Commons
While so many of us on the east coast try to keep up with all things sports around the country, staying up for a game on the opposite side of the country that starts at 10:30pm ET is tough – especially on a weeknight. As a result, so many athletes based on the west coast don't get as much exposure and publicity for their accomplishments, though it's probably safe to say that Stephen Curry has been an exception – and rightfully so.
Who is Stephen Curry? Only the Most Valuable Player in the National Basketball Association (NBA) for the second straight year after having led his Golden State Warriors to the best regular season record of any team in the league's history. Not only was Curry the MVP for a second straight year; he was actually named the first unanimous MVP in the league's history as well.
For some context and background, check out this infographic by Jessie Kavana/ESPN Stats & Information:
Continue reading "Stephen Curry – Reigning MVP and a Rising Star in Business" →