The Robo Report… is an institutional-quality research report that covers the digital robo-advisor industry. We believe that informed investors make better decisions, and we noticed the lack of transparency in the portfolios, performance, and products of robo advice platforms. We believe that with the right information, the modern investor can make an informed decision to positively impact their future. At Condor Capital, we do not generate any revenue from this report. Instead, the Robo Report is our way of lending our expertise to the average investor. The resources we dedicate to the report is our contribution back to the larger investing community.
Robo advisors are… digitally-native investment management platforms that use automated algorithms to invest money on behalf of their clients. The industry began in 2008 and has undergone a meteoric rise in growth and evolution. Robo advisors today are approaching $1 trillion in assets under management and are offered at many of the nation's largest consumer financial services institutions.
Condor Capital was founded over 30 years ago… as a fee-only independent financial advisor. Part of Condor's offering has been tracking and reporting on client accounts held outside of just Condor's management. This has allowed Condor and its clients to get a complete picture of their financial situation and total investment performance. Today, Condor manages over $1 billion in assets for over 500 households thanks to, in part, its excellence in providing transparency and reliable reporting.
The research… is our way of bringing Condor's institutional expertise in tracking accounts to serve the modern investor. We directly invest in robo advisors, track every transaction, and provide institutional-quality reporting and commentary on their performance, risk, and portfolio allocation.
The Problem
Although robo advisors boast digital features, well-designed planning tools, and sleek user interfaces, they typically do not publicly publish performance. Prospective users can struggle to aggregate and compare features, fees, and minimums all in one place. This lack of transparency leads to less informed financial decisions.
The Solution
The Research Team at Condor Capital directly invests in, tracks, and monitors over 30 accounts across the major robo-advice providers. From there, the Condor team closely monitors trends in equity-only, bond-only, and total-portfolio performance across these accounts. The Robo Report provides a comprehensive look at these results on a quarterly basis.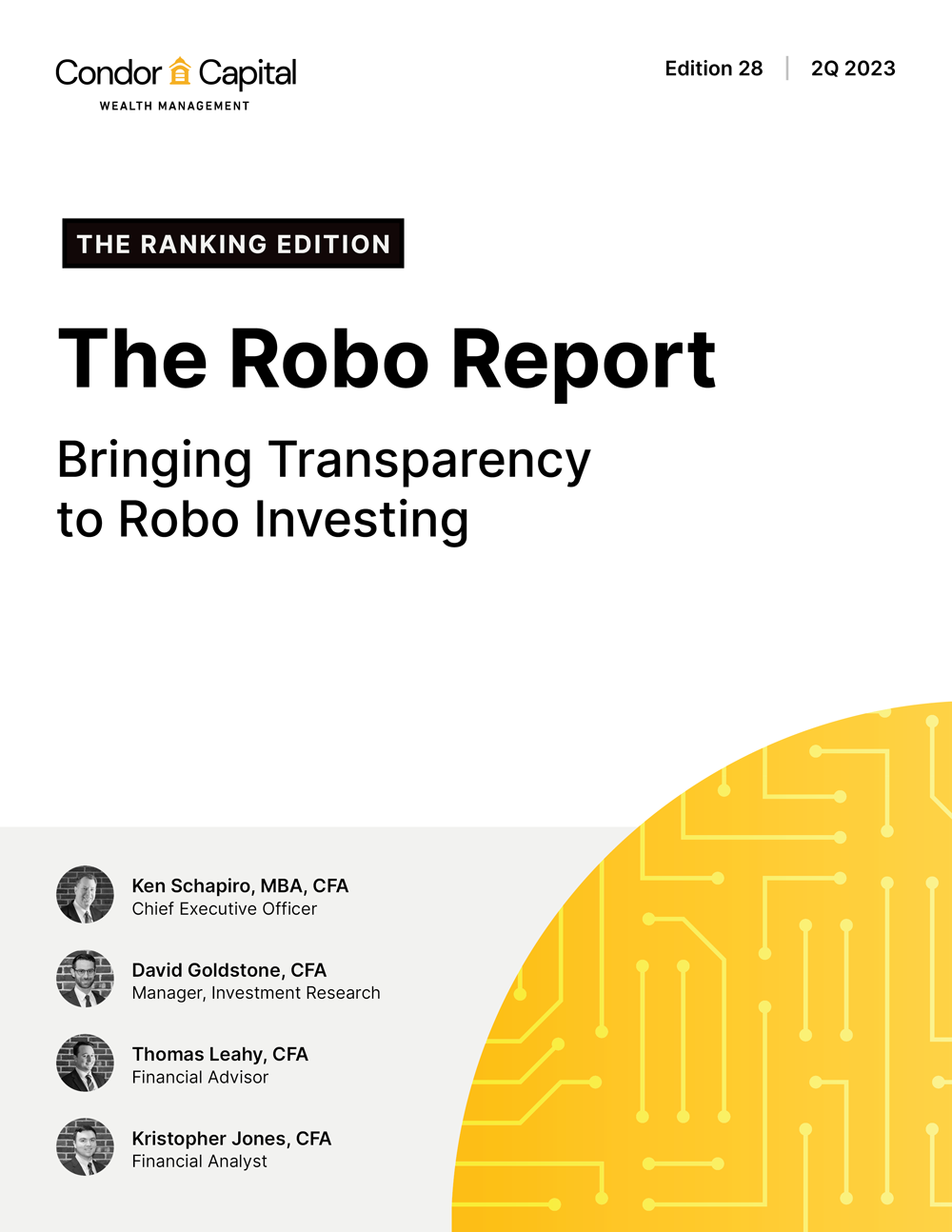 The Robo Report in the Media












More Info on The Robo Report
---
Start managing your investments professionally