2013 Condor Capital Charity Open
---
2010 Open
Read About Our 1st Condor Capital Charity Open Here
Go Back
Go back to the Condor Capital Charity Open Page
2016 Open
Our 3rd open will take place in early December of 2016
The Children's Development Center at Hunterdon Medical Center

Hunterdon Healthcare exists to prevent disease, illness, and injury, seek cures, relieve pain, give comfort, and inspire a healthy way of living. Because of donations from events like the Condor Capital Charity Open, Hunterdon Healthcare will continue to keep pace and offer the latest in medical advances to the community. Building a healthier community is not an innovative program – it is changing people's behavior. Hunterdon Healthcare will continue to give our community's residents the tools needed to make healthier choices in order to improve their well-being.
The Hunterdon County YMCA is one of the largest non-profit, community service organizations in Hunterdon County. In terms of health and fitness, they emphasize the importance of furthering youth development, maintaining a healthy lifestyle, and promoting social responsibility. The YMCA provides the community with a vast range of programs including child care, preschool, summer camp, teen programs, family programs, senior citizen activities, swim lessons, life-guard certifications, and many volunteer opportunities.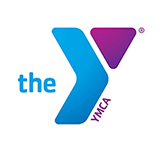 National Eating Disorders Association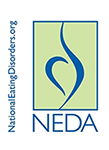 NEDA is a non-profit organization that supports and helps individuals and families affected by eating disorders. Resources are primarily used to spread awareness about the prevention and treatment of eating disorders. Additionally, through increased research and funding, NEDA works on finding cures and creating large support groups for affected individuals.
Luke Jensen is a retired American professional tennis player that is well known throughout the tennis community. In 1984, before Luke went pro, he earned the Junior World No. 1 title in both doubles and singles. During his professional years, he accumulated a total of 10 doubles titles and was given the nickname "Dual Hand Luke" for his ambidextrous ability to serve at 130 MPH with either hand. In 1993, he won the French Open doubles title with his younger brother, Murphy Jensen, which allowed him to reach his career high ranking of World No. 6 in doubles. After retiring from the pro tour, Jensen became Syracuse University's Head Women's Tennis Coach. In January of 2014, he left Syracuse for a position with ESPN doing on-court tennis analysis and coverage. From time-to-time, Luke travels the world to instruct up-and-coming tennis players and/or to give motivational speeches about the sport. At the 2013 Condor Capital Charity Open, Luke participated in the 90-minute clinic, the Pro-Am matches, and the main event "Battle of the Sexes" against Alison Riske. Like Billie Jean in the 1973 "Battle of the Sexes" match, where Bobby Riggs and Billie Jean King went head to head in the first ever televised male vs. female tennis match, Alison Riske won the match at the Charity Open.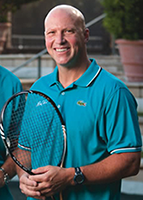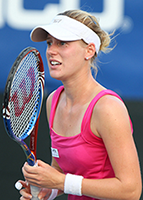 Another pro at the 2013 Condor Capital Charity Open was Alison Riske, who is still early in her career as an American professional tennis player. Prior to her professional career, Alison won the Pennsylvania State Championship singles title in 2006, the USTA National Collegiate Clay Court Championship in 2007, the ITA Summer Clay Court Championship in 2008, and finished second at the USTA National Hard Courts that same year. Also in 2008, she earned the No.1 ranking in the United States Girls 18s Division. As a professional, she has accumulated 1 WTA title, 6 ITF Tour singles titles, and 1 ITF Tour doubles title. During the Charity Open, Alison went head-to-head with Luke Jensen in the Charity Open's version of the famous "Battle of the Sexes" match. Alison finished the tournament against Luke as the victor, just as Billie Jean King had won against Bobby Riggs in the actual event 40 years prior.
Christina McHale, like Alison Riske, is an up-and-coming American professional tennis player that is taking the tennis world by storm. McHale is known for her underdog ability to win matches against top ranked WTA Tour Players. Throughout her career, she has won against many big names in tennis, including dual Grand Slam champions Svetlana Kuznetsova, Victoria Azarenka, and Petra Kvitova. She has also come out victorious playing against the former World No.1 title holder, Caroline Wozniacki, the former World No. 3 title holder, Nadia Petrova, the former World No. 5 title holder, Daniela Hantucha, the 2013 Wimbledon champion, Marion Bartoli, and the former French Open finalist, Sara Errani, in addition to many more. Christina lent a helping hand at the 2013 Condor Capital Charity Open 90-minute clinic, assisting players of all ages on how to improve swings and serves. She also participated in the Pro-Am matches, playing against attendees whose tennis skill level was anywhere from moderate to impressive.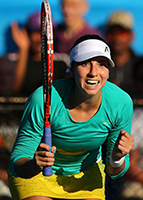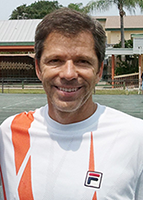 Jimmy Arias, like Luke Jensen, is a former American professional tennis player. Jimmy was a highly skilled tennis player at a young age. He turned professional in 1980, when he was only 16 years old. During the first two years as a pro, Jimmy won the 1982 French Open mixed doubles championship with the former World No. 2 female tennis player, Andrea Jaeger. In 1983, the 19-year-old Arias finished the year ranked as the World No. 6 singles player. Also that year, he won the Italian Open, three other tour grand prix events, and reached the semi-finals at the U.S. Open. A year later in 1984, Jimmy reached a career-high ranking of World No. 5 in singles. After retiring from the tour in 1994, Arias served as an NBC Sports coverage analyst for the 2008 Summer Olympics, a broadcaster working for Rogers Sportsnet/ Canadian Broadcasting Corporation for the 2011, 2012, and 2013 Rogers Cup tournaments, and currently is a sports commentator for ESPN International and ESPN Tennis Channel. Jimmy came out to the 2013 Condor Capital Charity Open to help out with all the events, to meet with fans, and sign autographs for sponsors and VIPs.
The last pro to highlight and help out in the 2013 Condor Capital Charity Open was former professional American tennis player, Katrina Adams. Katrina fell in love with tennis at a very young age, joining her first tennis program at the age of 6. During high school, she twice earned a singles championship title from the Illinois High School Association, having received the title back-to-back in years 1983 and 1984. In 1987, while Katrina was in college, she won the National Collegiate Athletic Association (NCAA) doubles title with partner Diane Donnelly and was twice voted All-American. During her professional career, Katrina accumulated 1 ITF singles title, 7 ITF doubles titles, 20 WTA doubles titles, and in 1989, she was the World No. 8 doubles title-holder, which was her career-high ranking. After retiring in 1999, Katrina spent the majority of her time as a television commentator for the ESPN Tennis Channel. She also became the executive director of the Harlem Junior Tennis League and the president of the United States Tennis Association (USTA).