---
Nazariy Bobelyak
"By Keith Allison from Owings Mills, USA (Stephen Curry) [CC BY-SA 2.0 (http://creativecommons.org/licenses/by-sa/2.0)]," via Wikimedia Commons
While so many of us on the east coast try to keep up with all things sports around the country, staying up for a game on the opposite side of the country that starts at 10:30pm ET is tough – especially on a weeknight. As a result, so many athletes based on the west coast don't get as much exposure and publicity for their accomplishments, though it's probably safe to say that Stephen Curry has been an exception – and rightfully so.
Who is Stephen Curry? Only the Most Valuable Player in the National Basketball Association (NBA) for the second straight year after having led his Golden State Warriors to the best regular season record of any team in the league's history. Not only was Curry the MVP for a second straight year; he was actually named the first unanimous MVP in the league's history as well.
For some context and background, check out this infographic by Jessie Kavana/ESPN Stats & Information:

Source: http://espn.go.com/blog/statsinfo/post/_/id/118142/infographic-stephen-curry-dubbed-nba-mvp.
Add to his on-the-court accomplishments a pristine image of a family man who often brings his toddler to post-game conferences and it's easy to see why Curry's stock is rising…so much so that endorsements with various companies like Brita, Kaiser Permanente, JBL, Chase and Under Armour are valued north of $12 million – above the $11.37 million basketball salary he collected for the 2015-2016 season.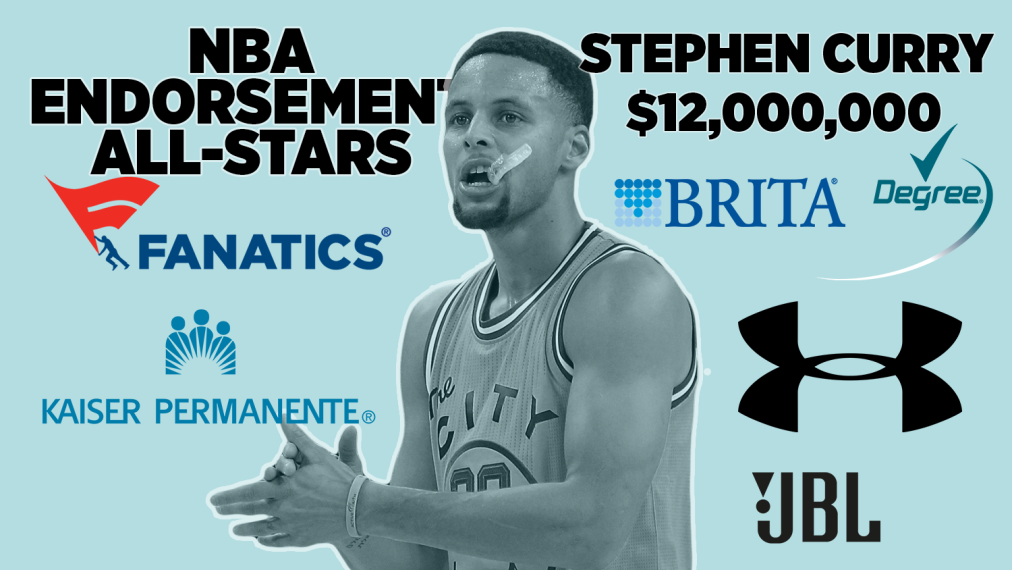 Art: Bailey Brautigan, Forbes
Source: http://specials-images.forbesimg.com/imageserve/56c0e538e4b062f6b599d2c8/x.jpg.
While the product type and specific celebrity's endorsement play a role in determining how much the sponsoring company will benefit economically, there has been little doubt so far that Under Armour in particular has fared well so far with its partnership with Curry.
Morgan Stanley's analysts recently projected that based on sales over the first few months of 2016, Curry's signature shoe is projected to deliver $160 million in sales, propelling it over LeBron James's $150 million rate with Nike. What makes this particularly impressive is the fact that Under Armour's shoe business is still a small player in the U.S.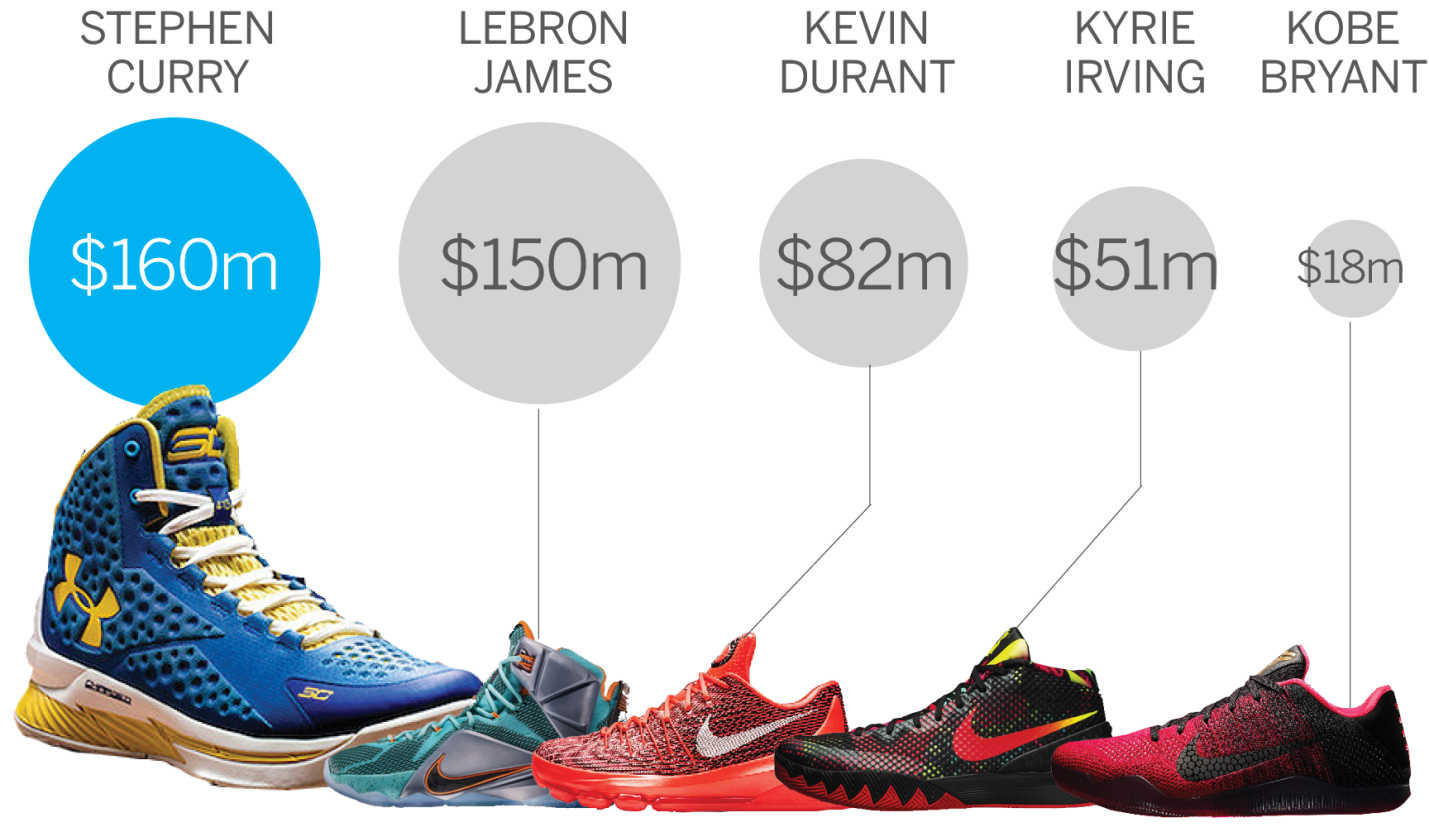 Source: http://espn.go.com/espn/feature/story/_/id/15492948/the-numbers-steph-curry-incredible-mvp-season.
How this bodes for the other brands Curry sponsors remains to be seen, but executives elsewhere have to be optimistic given his success on the court as well as off it so far. Sports and businesses have always had a unique relationship and this one through Stephen Curry appears to be no exception.